Paul Smith brings harems and hammams to London
By Golnar Motevalli
LONDON (Reuters) - Fashion designer Paul Smith brought a taste of the Orient to London Fashion Week on Monday as wet-haired models draped in white silks and dressed in turbans conjured a post-hammam look on the catwalk.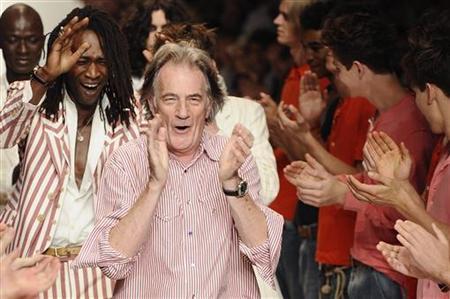 Silks and cottons, linen scarves and embroidered necklines featured among the 36 outfits in the spring/summer 2009 collection, which Smith unveiled at London's Claridges hotel.
"It's loosely based on an exhibition I went to see at the Tate Britain museum on Orientalism (which) was very much about hammams and harems and all the lovely clothes that the ladies wear," Smith told Reuters before the show.
"The models' faces are very dewy like they've just come out of the hammams, colours are lots of whites, some black, lemon, pale pink and different sort of shapes like big harem trousers," he added.
Smith, who opened his first shop in 1970 and has been involved in the clothing industry since he was 16, said he was not immediately concerned about the credit crunch.
He saw accessories as a way customers could stay on trend without breaking the bank.
"We're doing very well in some areas, especially accessories, it's somewhere you can make gains because people can add those to their existing wardrobe," Smith said.
Smith said sales at his company were strong, but noted the industry was not insulated from the economic downturn.
"Certainly the companies behind the designers are very aware of the financial worries of the world and the greed of the big banks who have caused these problems ... But luckily, fingers crossed our business is above last year," Smith said.
THE FASHION SQUEEZE
Adding to concerns about the impact of the credit crunch, is the prospect London Fashion Week may have to be squeezed into four days next season because the rival New York event wants an eight-day week.
Smith, along with other designers showing this week, is concerned a four day London Fashion Week would be detrimental to the industry, particularly young designers.
"If they push it into four days unfortunately there will be longer days, the shows will have to go into the evening and we'll have to consolidate some of the younger designers into salon shows," Smith said.
"Of course we want to fight it and not be pushed into four days but if we are we'll just have to deal with it," he said.
© Thomson Reuters 2022 All rights reserved.